The intensive course is designed to prepare the candidate who is going to sit for the MRCOG Part 1 Examination soon. It is a revision course and the candidate is expected to have done some reading before subscribing for the course. The entire syllabus cannot be covered but the core areas as shown by the blueprint of the syllabus by the Royal College is covered. The modules include: Anatomy, Biochemistry, Embryology, Endocrinology, Epidemiology/Statistics, Genetics and Physiology for Paper One and Biophysics, Immunology, Microbiology, Pathology Pharmacology, Clinical Management and Data Interpretation for Paper Two.
Each module will start with a lecture that covers the core or "must know" knowledge the candidate must know before he or she enters the Examination Hall. To test his understanding of the subject, it will be followed by ample practice with single best answer (SBAs) questions on the topic. Notwithstanding, the candidate must supplement his or her knowledge with further reading. The RCOG website gives a list of useful reference books.
Please make the best of the Course and I wish you the best in your Examination.
Professor Kulenthran Arumugam
MBBS (Spore), MRCOG, MD, PhD, Dip Epid. (Lond)
The Medical Educator: https://www.themededucator.com
Your Instructor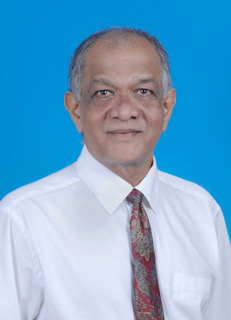 Professor Kulenthran Arumugam
MBBS(Spore); MRCOG; MD; PhD; Dip Epid (Lond)
Professor Arumugam has been running the Part 1 MRCOG course and with great success for more than ten years. The course also attracts candidates from overseas Centres. He has now decided to take it online.
He has been both the Chairman of the Malaysian Representative Committee for the RCOG and part of many a" train the trainers courses" for the MRCOG Examinations organized by the Royal College in the past. He is well versed with the evolving format of the Part One Examination having been the organizer and facilitator for the MRCOG Examinations in Malaysia for more than twelve years. Besides being an experienced Obstetrician and Gynaecologist, he has a good grounding in the basic sciences having been a lecturer in the pre-clinical departments for two years before he took up Obstetrics and Gynaecology at the University Malaya Medical Centre. He is therefore well qualified to give this course. Where necessary however he has sought the help of his Faculty members to fill in the gaps.

For more information, please click here.

Course Content

Module One: Anatomy

Anterior abdominal wall
Inguinal and femoral canals
Femoral triangle
Blood supply and venous drainage of abdominal organs
Bony pelvis and pelvic sidewalls
Nerve supply
Blood supply lymphatic drainage of pelvis
Pelvic organs including the rectum, anal canal and bladder
Female perineum

Module Two: Biochemistry

Cell organelles and their function
Steroid chemistry
Prostaglandin chemistry/pharmacology
Biochemistry of vitamins
Acid-base balance
Oxygen dissociation curve

Module Three: Embryology

Ovum, spermatozoa and fertilization
Early embryology and organ derivatives
Development of the female reproductive system
Development of the urinary system

Module Four: Endocrinology

Hypothalamus and Pituitary gland: clinical correlation
Thyroid gland and its dysfunction
Adrenal gland and it dysfunction
Blood glucose control, insulin and diabetes
Calcium metabolism and osteoporosis

Module Five: Epidemiology/statistics

Basic statistics: measures of central tendency and dispersion, p value and 95% confidence intervals including distributions, hypothesis testing and types of errors.
Overview of common statistical tests used and when to use them
Types of studies and levels of evidence
Clinical trials: methods and statistical analysis including strengths of association
Screening and diagnostic tests
Statistics on maternal, neonatal and perinatal mortality

Module Six: Genetics

Cell cycle and chromosome: basic knowledge
Chromosomal abnormalities: aneuploidy, microdeletions
Principles of inheritance and pedigree chart
Prenatal genetics: screening tests, diagnostic tests, overview of molecular genetic tests,
Genetics of gynaecological malignancies

Module Seven: Physiology

Spermatogenesis and sperm function
Folliculogenesis and the menstrual cycle
Ovulation induction and the hyperstimulation syndrome
Maternal physiology: physiological changes in pregnancy lactation
Placental physiology including abnormalities

Module Eight: Biophysics

Principles of ultrasound
Doppler in obstetrics
DEXA scans
Principles of Magnetic resonance imaging
Radiotherapy
Lasers in gynaecological surgery
Principles and safety of electro-surgery

Module Nine: Immunology

The immune system: innate and adoptive: phagocytes
T cells and B cells and antibodies
The complement system
Cytokines
Hypersensitivity reaction
Major histocompatibility complexes

Module Ten: Microbiology

Common infections in gynaecology
Genital ulcers
Infections in pregnancy
Puerperal sepsis and nosocomial infections
Modern methods in diagnosis

Module Eleven: Pathology

Cellular response to physiological and pathological stress
Common non-neoplastic conditions in gynaecology
Pathology in obstetrics
Malignant diseases in gynaecology: ca vulva, ca cervix, ca endometrium, ca ovary
Chemotherapy

Module Twelve: Pharmacology

Pregnancy and pharmacokinetics
Pharmacodynamics of commonly used drugs
Teratogenesis
Non-hormonal treatment in obstetrics and gynaecology
Hormonal therapy for non-malignant conditions in gynaecology
Anaesthetic drugs used in pregnancy

Module Thirteen and Fourteen: Data interpretation and Clinical Management

Interpretation of the results of common clinical investigations in gynaecological and obstetric practice
The management of common problems in Obstetrics and Gynaecology
Course Curriculum
Introduction
Available in days
days after you enroll
Module 1 Anatomy
Available in days
days after you enroll
Module 2 Biochemistry
Available in days
days after you enroll
What previous students say
"Concise, Effective, Life-saving. Prof's revision course was invaluable to me in my exam preparation. He narrowed the topics down to what's important for the exam and helped us strategize our studies better. Lots of practice with SBAs during the course too. Without a doubt, an essential revision course which I highly recommend." - August 2017

"Helps to focus on what to study." - November 2018

"Really great. Appreciate your hard work and thank you for guiding us." - November 2018

"Comprehensive course." - November 2018
Frequently Asked Questions
When does the course start and finish?
The course starts now and continues indefinitely. But it will be updated from time to time in terms of content and pricing. It is a completely self-paced online course - you decide when you start and when you finish.
How long do I have access to the course?
After enrolling, you have unlimited access to this course but the course will be updated from time to time